All Products - Enterprise - Product
2000IL Modular Solution
(DFS Technology - Modular - Up to 1,000,000 Sq. Ft.)
The HealthWay® 2000IL is a scalable, modular, energy-efficient air purification solution that can be front or side-loaded to fit nearly any application. The proprietary module-style design utilizes HealthWay's patented DFS (Disinfecting Filtration System) technology. Each module/array is simple to maintain and support with our unique picture-frame design. The 2000IL is designed to be utilized "inline" – it uses the HVAC system blower and can be installed in an air handler or in a duct run.
 Energy Savings Compared to MERV 11-16 Filter
  98% Filtration at 0.3 Micron ⓘ3rd Party Lab Test Data
  Front or Side Load Options Available
  Patented Disinfecting Filtration System
Get in touch
Description
Improve Air Quality, Reduce Energy, and Lower Operating Costs
Indoor air quality improvements no longer have to result in increased energy consumption and higher operating costs. The 2000IL is a tremendously efficient indoor air quality solution with an ultra-low pressure drop. Utilizing DFS, our solutions result in greater than MERV 16 filtration, with the pressure drop of a MERV 8 filter (0.27" w.c.). Improve air quality, reduce energy, and lower operating costs with an all-in-one solution by HealthWay.
Filter Efficiency
98% at 0.3 Micron
Rated Power (max.)
15 watts per Module
Pressure Drop
0.27" w.c.
CFM
2000 per Module
Full Features
Energy Savings:  Save up to 75% over MERV Alternatives

Air Quality: DFS Exceeds MERV 16 Filtration (98% Efficiency at 0.3 Micron)

Reduce Filter Maintenace: 12-18 Month Intervals

Durable Construction: 18-Guage Galvanized Steel

Operating Cost: Save up to 75% over MERV Alternatives
Do you have case studies featuring your modular solutions?
Yes, to learn more about a recent implementation of our modular inline solution (1000IL and 2000IL) that saves energy and improves indoor air quality, please check out the following case study.
View Case Study
How does HealthWay's DFS technology deal with COVID-19?
In response to the COVID-19 Pandemic, HealthWay® has conducted a series of tests to show the efficiency of DFS technology on the capture and permanent removal of airborne viruses and bacteria. World-renowned Infection Control expert and an advisor to the U.S. EPA (Environmental Protection Agency) and the World Health Organization, Dr. Syed Sattar, conducted his studies in a chamber that was built to follow U.S. EPA guidelines.
DFS technology was proven to remove from the air a proxy virus for SARS-CoV-2 (RNA virus MS2)1: The results of this data show 99.987% elimination in 10 minutes of the surrogate which is 0.03 micron in size. The test also showed that there was 100% elimination in 45 minutes and again 100% at 24 hours indicating no reintroduction of the proxy virus. HealthWay® can't promise to prevent you from getting COVID-19. We recommend that you review COVID-19 related information from the CDC and other reliable resources for more information.
Read a summary of the study here
.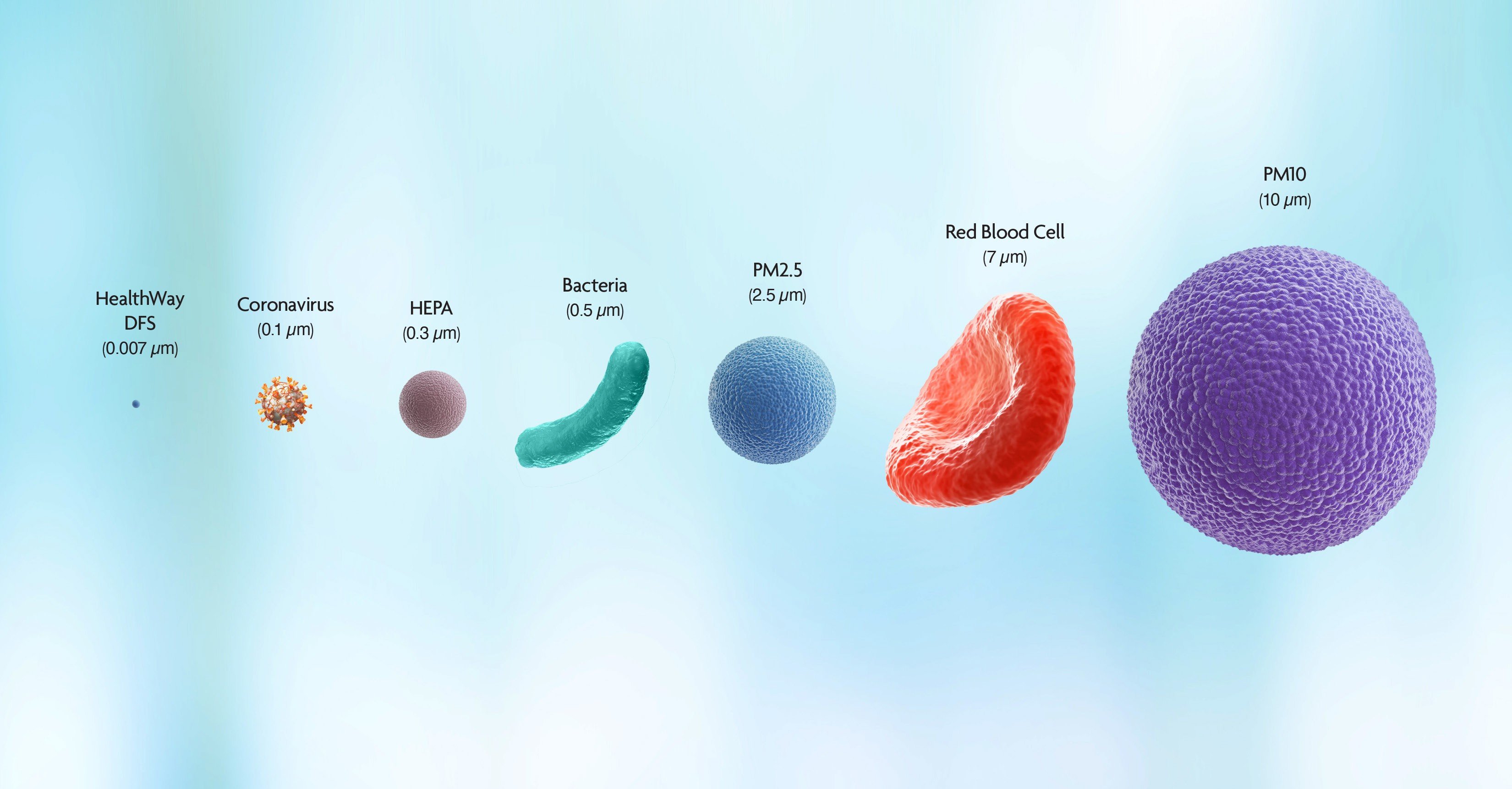 Learn About DFS Technology
What is a MERV rating? (MERV Chart Inside)
A MERV rating, also known as a Minimum Efficiency Reporting Values, reports a filter's ability to capture particles between 0.3 and 10 microns (µm). This value is helpful in comparing the performance of different filters. The higher the MERV rating the better the filter is at trapping specific types of particles.
MERV Rating
Average Particle Size Efficiency in Microns
1-4
3.0 – 10.0 less then 20%
6
3.0 – 10.0: 49.9%
8
3.0 – 10.0: 84.9%
10
1.0 – 3.0: 50% – 64.9%, 3.0 – 10.0: 85% or greater
12
1.0 – 3.0: 80% – 89.9%, 3.0 – 10.0: 90% or greater
14
0.3 – 1.0: 75% – 85%, 1.0 – 3.0: 90% or greater
16
0.3 – 1.0: 95% or greater
DFS
0.3 – 1.0:

98% or greater
Learn More
What is Indoor Air Quality (IAQ)?
Indoor Air Quality (IAQ) refers to the air quality within and around buildings and structures, especially as it relates to the health and comfort of building occupants. Understanding and controlling common pollutants indoors can help reduce your risk of indoor health concerns. Health effects from indoor air pollutants may be experienced soon after exposure or possibly years later.
"We chose HealthWay® because of the high-quality products they provide and the community partnership they offer. We strive to always promote and support local businesses.  We are very pleased with all our systems and feel fortunate to have them [HealthWay®] in our back yard in Pulaski, NY."
Tricia Peter-Clark | CEO ConnextCare -
"This is the solution to building safer, more productive & energy-efficient workspaces."
Stark Tech Group - Rochester, NY
"We are a small restaurant in CNY and are trying our best to ensure the safety of our customers and our employees during these trying times. We wanted to make sure that we put our best foot forward to reach this goal, and working with the people of Intellipure/HealthWay helped us get there. They took the time to get us up and running promptly, and we could tell they had our best interests at heart. The best part is what a difference!! We could tell immediately that the quality of the air in our establishment is fresher and crisper. I would like to say thank you to the Intellipure team for their help, and definitely recommend this service and product to anyone."
Matt Bruce | Owner of the Blarney Stone -
"We are excited to announce that both of our restaurants The Krebs and Elephant and The Dove in Skaneateles NY have had Intellipure and HealthWay air purifiers installed to clean our air! With capacities opening up this gives us another layer on top of our cleaning procedures to protect and give our customers confidence once again in dining out!"
Adam Weitsman | Owner and CEO of Upstate Shredding - Skaneateles, NY
"Our players, staff and fans can feel safe knowing we are treating the indoor air quality with Healthway's technology and expertise. Having this global leader right in our own backyard is truly Amazin'."
Jason Smorol | Syracuse Mets General Manager -
"As the CEO of a leading risk management company we always look for ways to mitigate our client's risk while providing innovative ways for them to provide more value to their employees. Air quality is now a major health concern at work and at home. Statistics show that poor air quality effects cognitive function reduces employee satisfaction and can contribute to increased sick time. Our homes aren't much better, with the EPA stating that 8 out of 10 homes have major air quality problems. As a Chemical Engineer who has studied and evaluated indoor environments for years, I was impressed with the way HealthWay approached air cleaning. I purchased machines for my home and our offices. To say we were amazed at how effective they were would be an understatement. Everyone in our family remarked at how much better they felt and how much better they were able to breathe. In addition, everyone noticed a dramatic reduction of dust in his or her space. If you own a business or a home I would highly recommend making the investment in clean air."
Pierre Morrisseau | Industrial Hygienist and Risk Management Expert / CEO OneGroup -
"Providing clean air environments and limiting exposure to ultrafine particles is a must during IVF cycles or during any time that one is trying to conceive." After having our offices evaluated and installing HealthWay air purifying systems, we immediately noticed an enhanced level of wellness and air quality. I would highly recommend these machines to any family trying to conceive. HealthWay Air Cleaning systems are individually tested and proven to be more efficient than HEPA air cleaners at capturing the most dangerous lung penetrating particles and you can truly notice the difference this solution makes over other products on the market."
Dr. Robert Kiltz | The United States top IVF expert and practitioner / CEO of CNY Fertility -
"Nothing is more important than creating the safest possible in-person learning environments for our students and dedicated staff, which is why we are going beyond public health recommendations to place air purifiers in every classroom."
Dr. Janice K. Jackson | CEO of Chicago Public Schools - New York, USA
Talk to an IAQ Expert Today
At HealthWay, we are reimagining the world as a better, safer place. We're looking forward to serving you and helping to solve your indoor air quality challenge. If you haven't found what you're looking for, please don't hesitate to get in touch with us today. Fill out our online form, or feel free to give us a call. Our standard business hours are 8:00 am to 5:00 pm EST, Monday-Friday.
Get In Touch